5cbm LPG Skid-Mounted gas refueling Station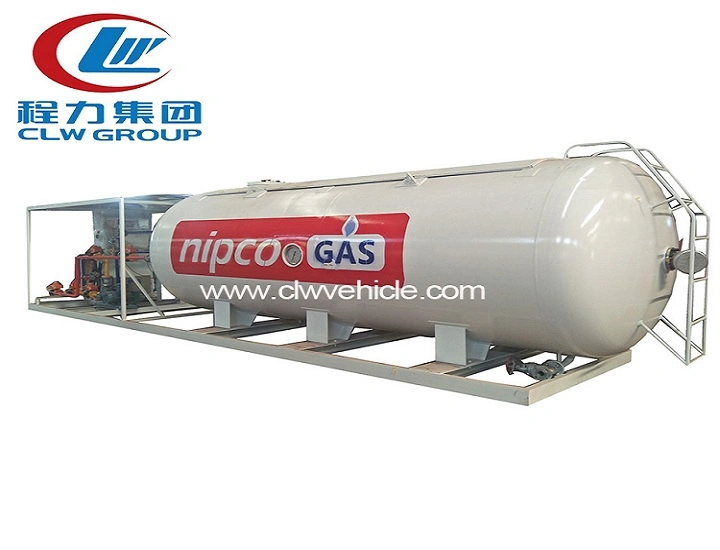 Techinical Data as follows:
Specification of 2.5T/5CBM LPG Storage Tank
Volume of Tank
5 CBM
Filling Weight
2500 kg
Tank Weight
2030 kg
Thickness of Shell (mm)
10 mm
Thickness of Endplate (mm)
10 mm
Tank Diameter (mm)
1600 mm
Overall Dimensions (mm) (length x width x height)
3070x1620x2210 mm
Material of Tank and Main Pressure Parts
Q345R Steel Specially for Pressure Vessels
Design Pressure
1.77 MPa
Hydraulic Test Pressure
2.22 MPa
Filling Medium
Liquefied Petroleum Gas ( Propane)
Medium Density
420-590 kg/ cbm
Filling Ratio
0.95
Corrosion Allowance
1 mm
Service life
15 years
Main parts of LPG Tank
Item
Specification
Quantity(pc)
Discharge Pipe
DN50
1
Inflow Pipe
DN50
1
Outlet
DN50
1
Gas phase balance pipes
DN50
2
Manhole
DN450
1
Drain Hole
DN50
1
Main accessories: Cut-off Valve, Needle Valve, Safety Valve, Liquid level meter,
Pressure gauge, Temperature Gauge.
Skid Parts List are showed in separated page below.
LPG Skid Part list

Item

Model Number

Quantity

LPG Tanker

/

1 unit

LPG Filling Machine with scale(Can fill 3kg to 150kg gas cylinder)

BCS-150

1 unit

Filling pump(Blackmer Brand)

LGLD2E

1 Piece

Anti-explosive motor(ABB brand)

M2JA160M8B

1 Piece

Water Spraying Cooling System

/

1 set

Alerter

QJ-D-99F

2 Piece

Ball floating level gauge

UQZ-2.5P

1 Unit

Safety valve

A42F-25 DN50

1 Piece

Check Valve

H42N-40DN50

2 Pieces




Stop valve

J41N-40 DN50

3 Pieces

J41N-40 DN32

2 Piece

J41N-40 DN25

3 Pieces

Pipe safety valve

A21F-25 DN15

1 Piece

Unloading pipeline

L=4M DN50/DN25

1 Set

Shockproof pipe

L=500mm DN50

2 Pieces

Elbow cap

DN65

2 Pieces

DN50

10 Pieces




Flange

2.5MPaDN50

6 Pieces

2.5MPaDN32

2 Piece

2.5MPaDN25

6 Pieces

Equipment base

/

1 Unit

Pipes

/

1 Set
Chengli Special Automobile Co., Ltd is a professional manufacturer of all kinds of special truck and trailer as well as other special equipment. LPG tank is our most advantage key products which rank Top 5 in China, excellent engineers and high-grade production equipment as well as stricted quality control system can ensure all the tank from us run very well with 10-20 years use life.
Our liquefied gases tank can work In low pressure at room temperature, the volume from 5 cubic meters --- 100 cubic optional.If you have other speical requirement, we can customize for you.
Our main products:
1. Dump Truck / Tipper Truck/Side Tipper/End Tipper
2. Fire Fighting Truck / Fire Truck / Fire Vehicle / Fire Engine
3. Truck with crane / Truck mounted crane
4. LPG Tank Truck Trailer/Oil Tank Truck / Fuel Tanker Truck
5. Water truck / Water Tank Truck / Water Sprinkler Truck
6. Concrete Mixer Truck
7. Van truck / Insulated truck/ Refrigeration truck
8. Fecal suction truck / Sewage suction truck,
9. Cement Powder Tank truck/ Bulk cement truck
10. High-altitude operation truck,
11. Self-loading garbage truck, garbage compactor truck, sealed garbage truck,
12. Semi Trailer ( flat bed trailer / skeleton trailer / dump semi trailer / side wall trailer / low bed trailer / van container trailer / warehouse trailer, etc. )
Contact information:
Ms. Janie Chen
Sales Representative
Chengli Special Automobile Co., Ltd
Factory: Chengli Automobile Industry Park,Suizhou, Hubei, China
Office: Block 2, Fengzeyuan Villa, Dongxihu District, Wuhan City, Hubei Province, China.
Mobile: +86-18771991406
Tel&Fax: +86-27-83796298
Web: https://chenglitruck.en.made-in-china.com
Customized LPG, Truck & Trailer Solutions to Meet Your Requirements