Containerized System Oil Inject Screw Air Compressor (KCCASS-45*2)
Compressor block-container is a perfect solution for an outdoor working site. The system can be assembled from one or several compressors, air tanks, several stage filtration systems, cooling fans, dryers, electric lightning system and air conditioning system. The system can be easily transported; it requires just a stable power supply and discharge pipe connection to start operating. Every container is covered with anti-corrosive agent, thus the system can be used in harsh environment.
1. Easy installation and transportation.
2. Delayed start of air dryer automatically after air compressor starter.
3. Several skid mounted screw air compressor system can be interlinked.
4. Remote control from central control room via , RS-485 connection is possible.
5. Air quality can be achieved according to different application to solid particles size 0.01μm,oil content ≤0.003ppm,pressure dew point: -20oC~-70oC.
6. The discharge pressure of skid mounted screw air compressor system can be designed according to customer's request.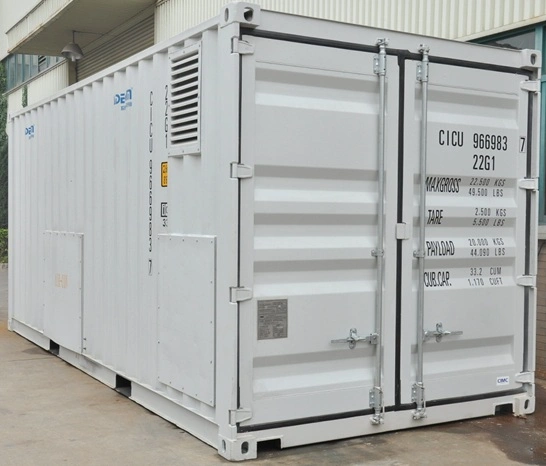 Fields of application:
Underground railway
Tunnels and roads construction
Shipping
Hydropower plants
Well drilling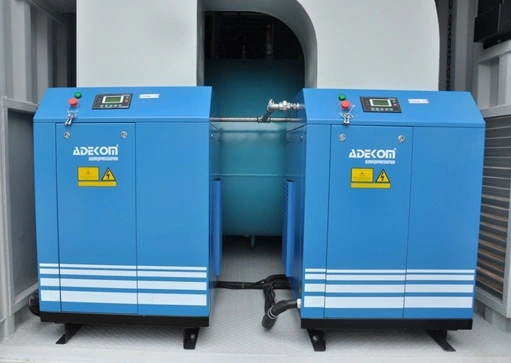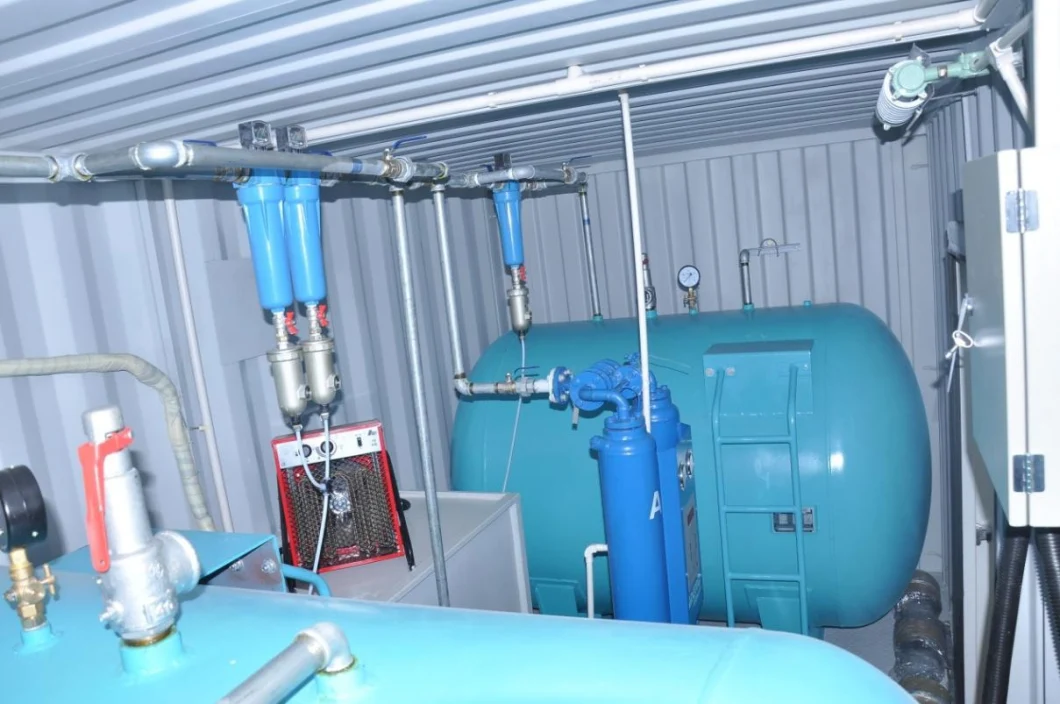 Technical parameters:
Model
KB18-DR-8
KB22-DR-8
KC30-DR-8
KC37-DR-8
KC45-DR-8
KD55-DR-8
KD75-DR-8
Discharge capacity (m3/min)
3.19
3.62
5.2
6.42
7.62
10.1
12.96
Discharge pressure bar bar (g)
8
Cooling method
Air-cooled
Noise level dB(A)
71±3
72±3
75±3
Residual particles content (μm)
≤0.01
Residual oil content (ppm)
≤0.003
Pressure dew point ( oC)
3~10oC or -20~-70°C
Voltage(V)/Frequency(Hz)
220V/380V/440V 50Hz/60Hz
Rated power (kW)
18.5kW
22kW
30kW
37kW
45kW
55kW
75kW
Discharge pipe connections (inch)
1-1/4"
2"
2-1/2"

For any other requests please contact Adekom.
Adekom Kompressoren (Dongguan) Limited
Web : dgadekom.en.made-in-china.com