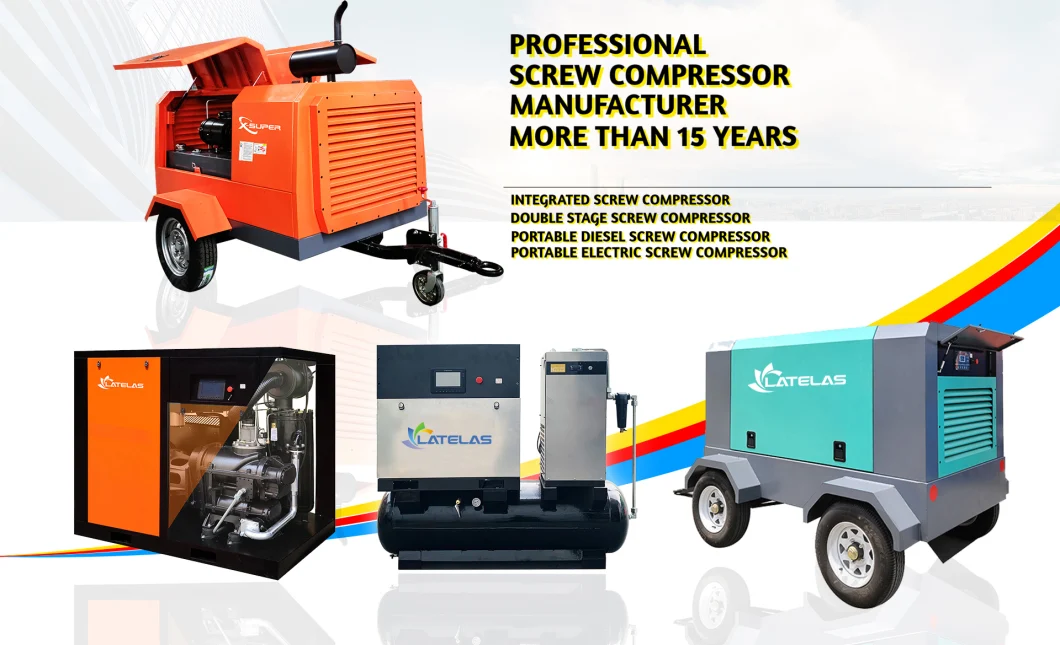 *Product Description
MODEL

SUPC50-8

SUPC75-10

SUPC75-10

SUPC160-10

SUPC160-13-II

SUPC190-13

SUPC190-15

Machine

Free air delivery

m³/min

4.5

6

5

12

15

15

13

cfm

160

215

178

428

535

535

465

Normal working pressure

bar

8

8

10

10

13

13

15

psi

118

118

147

147

191

191

220

Dimentions




(withou twobar)




(mm)

Length

2500

2500

2500

3200

3200

3500

3500

Width

1750

1750

1750

1600

1600

1750

1750

Height

2100

2100

2100

2000

2000

2200

2200

Weight

Kg

1150

1150

1150

2200

2350

2500

2500

Wheel qty

2

2

2

4

4

4

4

Size and No. of outlet value

G1"*2

G1"*2

G1"*2

G1"*1




G1 1/2"*1

G1"*1




G1 1/2"*1

G1"*1




G1 1/2"*1

G1"*1




G1 1/2"*1

Diesel

Brand

XICHAI

XICHAI

XICHAI

YUCHAI

YUCHAI

YUCHAI

YUCHAI

Model

4DW91-50GBG3U

4DW93-75GG3U

4DW93-75GG3U

YC4A160-H300

YC4A160-H300

YC6J190-H300

YC6J190-H300

Rated power

Kw

36.8

55

55

118

118

140

140

hp

50

75

75

160

160

190

190

No. of cylinders

4

4

4

4

4

6

6

Engine speed

rpm

2650

2400

2400

2200

2200

2200

2200

Oil capacity

L

5

7

7

11

11

15

15

coolant capacity

L

30

30

30

60

60

75

75

Battary

V

12

24

24

24

24

24

24

Fuel tank capacity

L

100

100

100

180

180

180

180
MODEL

SUPC190-17

SUPC190-15-II

SUPC220-15

SUPC220-13-II

SUPC220-16-II

SUPC220-17-II

SUPC260-15-II

Machine

Free air delivery

m³/min

10

15

15

17

15

13

22

cfm

357

535

535

608

535

465

786

Normal working pressure

bar

17

15

15

13

16

17

15

psi

250

220

220

191

235

250

220

Dimentions




(withou twobar)




(mm)

Length

3500

3500

3500

3500

3500

3500

3700

Width

1750

1750

1750

1750

1750

1750

1900

Height

2200

2200

2200

2200

2200

2200

2350

Weight

Kg

2500

2650

3100

3200

3200

3200

3500

Wheel qty

4

4

4

4

4

4

4

Size and No. of outlet value

G1"*1




G1 1/2"*1

G1"*1




G1 1/2"*1

G1"*1




G1 1/2"*1

G1"*1




G1 1/2"*1

G1"*1




G1 1/2"*1

G1"*1




G1 1/2"*1

G1"*1




G1 1/2"*1

Diesel

Brand

YUCHAI

YUCHAI

YUCHAI

YUCHAI

YUCHAI

YUCHAI

YUCAI

Model

YC6J190-H300

YC6J190-H300

YC6J220-T300

YC6J220-T300

YC6J220-T300

YC6J220-T300

YC6A260-H300

Rated power

Kw

140

140

162

162

162

162

191

hp

190

190

220

220

220

220

260

No. of cylinders

6

6

6

6

6

6

6

Engine speed

rpm

2200

2200

2200

2200

2200

2200

2200

Oil capacity

L

15

15

20

20

20

20

24

coolant capacity

L

75

75

90

90

90

90

110

Battary

V

24

24

24

24

24

24

24

Fuel tank capacity

L

180

180

220

220

220

220

220
MODEL

SUPC260-17-II

SUPC260-22-II

SUPC300-13-II

SUPC300-17-II

SUPC300-25-II

SUPC420-25-II

SUPC430-24-II

SUPC500-25-II

Machine

Free air delivery

m³/min

17

14

28

22

17

25

29

33

cfm

608

500

1000

786

608

893

1035

1180

Normal working pressure

bar

17

22

13

17

25

25

24

25

psi

250

324

191

250

368

368

353

396

Dimentions




(withou twobar)




(mm)

Length

3700

3700

3900

3900

3900

3600

3600

3600

Width

1900

1900

2000

2000

2000

2000

2000

2000

Height

2350

2350

2400

2400

2400

2500

2500

2500

Weight

Kg

3500

3600

4000

4100

4200

4500

4600

4700

Wheel qty

4

4

4

4

4

Size and No. of outlet value

G1"*1




G1 1/2"*1

G1"*1




G1 1/2"*1

G1"*1




G2"*1

G1"*1




G2"*1

G1"*1




G2"*1

G1"*1 G1 1/2"*1




G2 1/2"*1

G1"*1 G1 1/2"*1




G2 1/2"*1

G1"*1 G1 1/2"*1




G2 1/2"*1

Diesel

Brand

YUCHAI

YUCHAI

YUCHAI

YUCHAI

YUCHAI

YUCHAI

YUCHAI

YUCHAI

YC6A260-H300

YC6A260-H300

YC6K560-KT31

Rated power

Kw

191

191

221

221

221

309

320

375

hp

260

260

300

300

300

420

430

500

No. of cylinders

6

6

6

6

6

6

6

6

Engine speed

rpm

2200

2200

2000

2000

2000

1900

1900

1900

Oil capacity

L

24

24

28

28

28

32

32

32

coolant capacity

L

110

110

140

140

140

180

180

180

Battary

V

24

24

24

24

24

24

24

24

Fuel tank capacity

L

220

220

280

280

280

400

400

400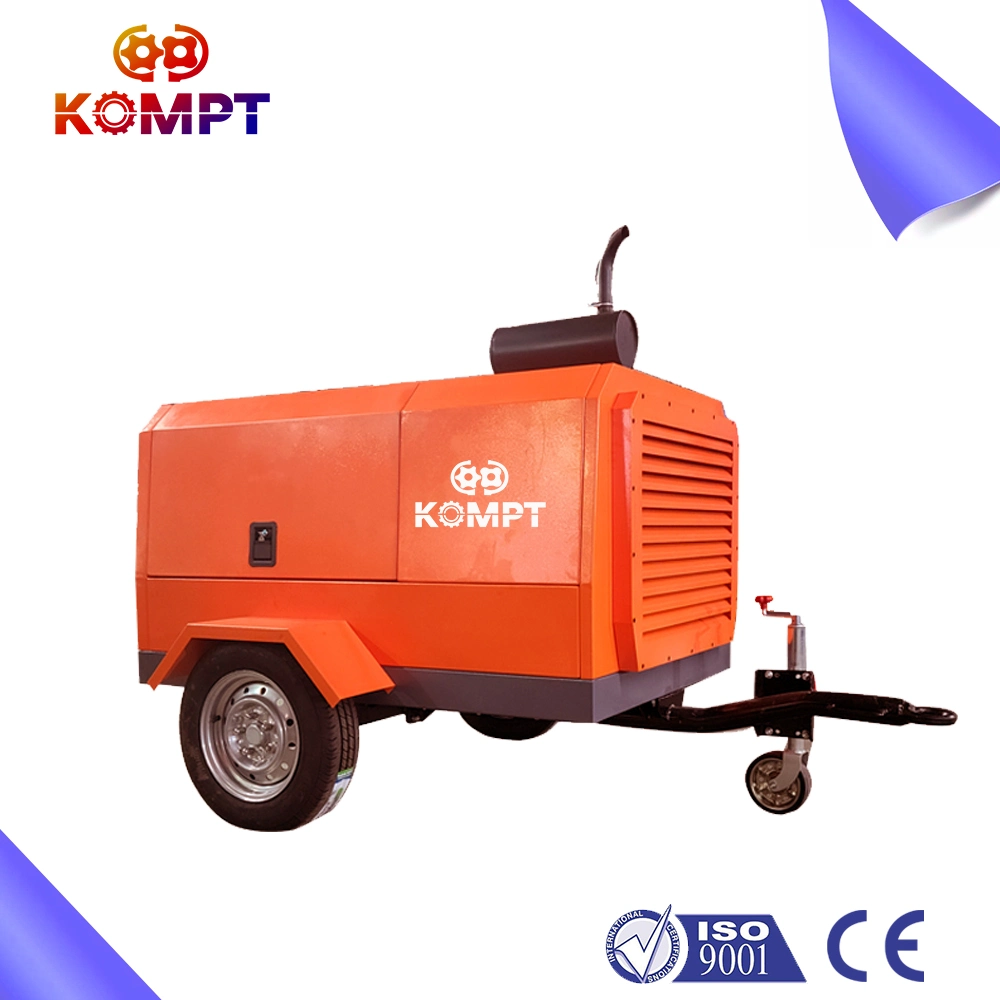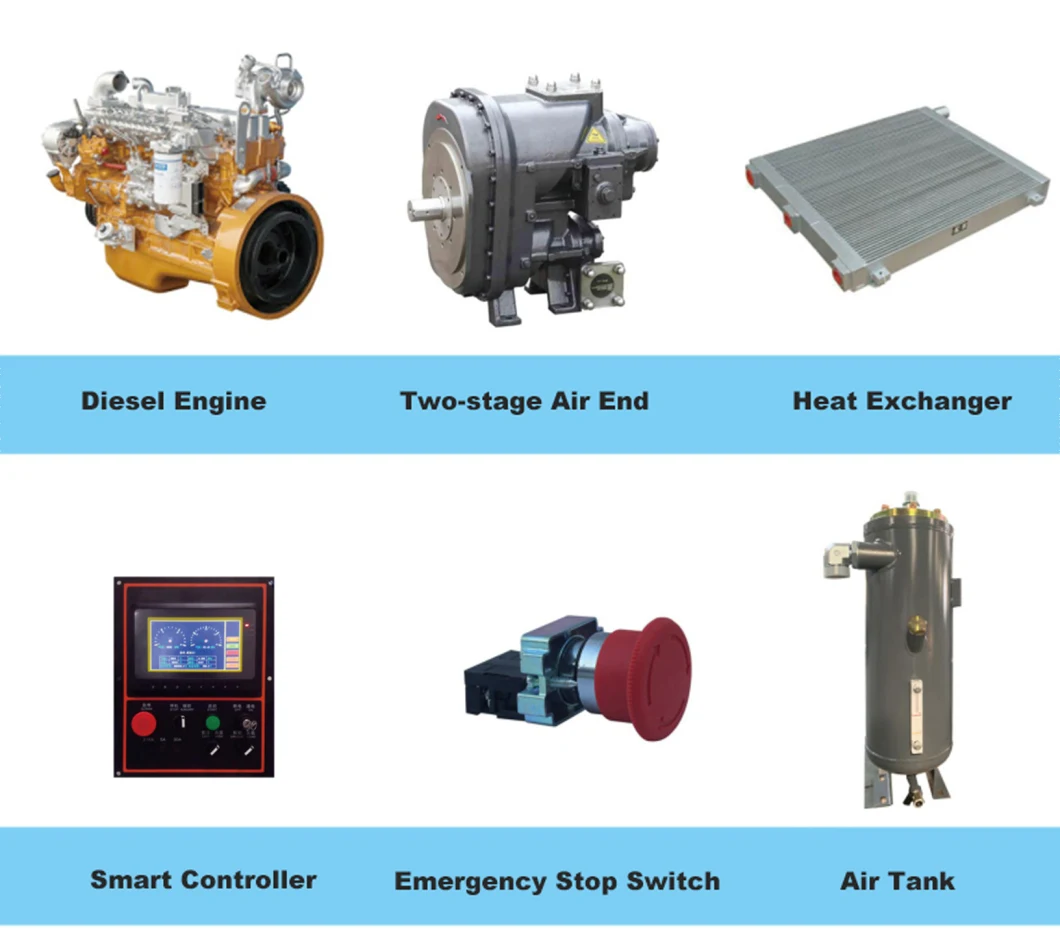 *Certifications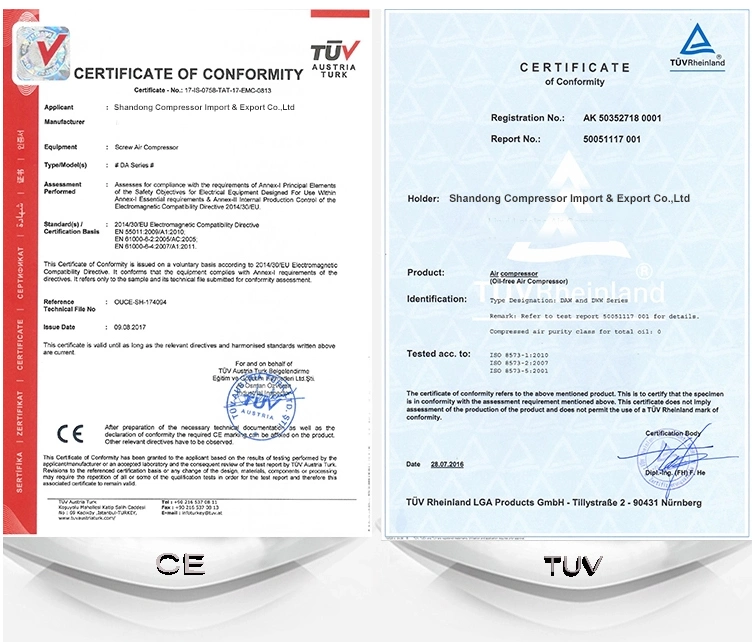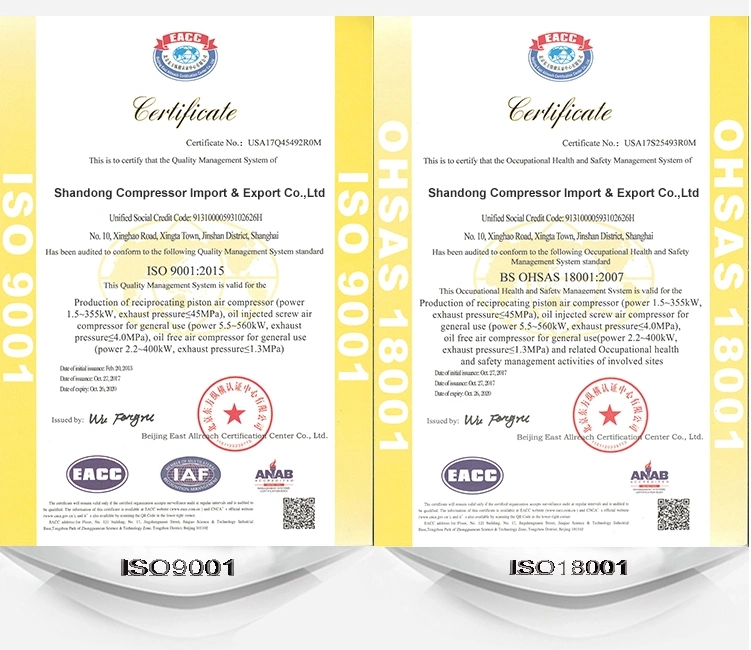 *Company Information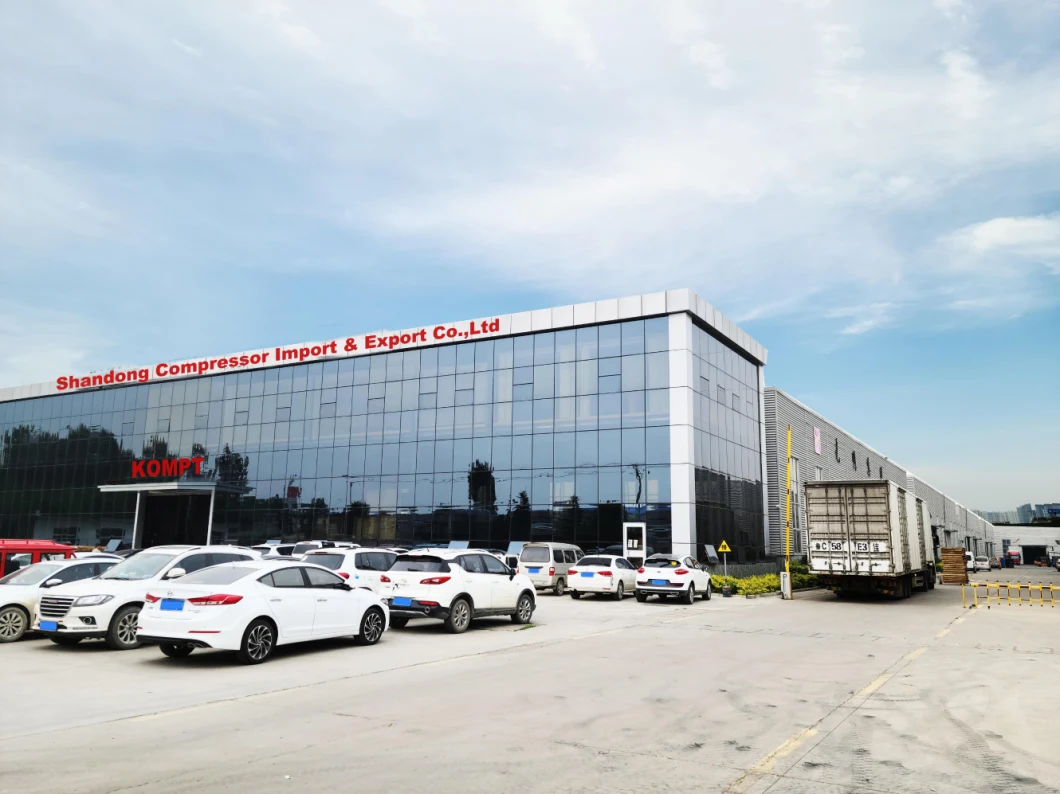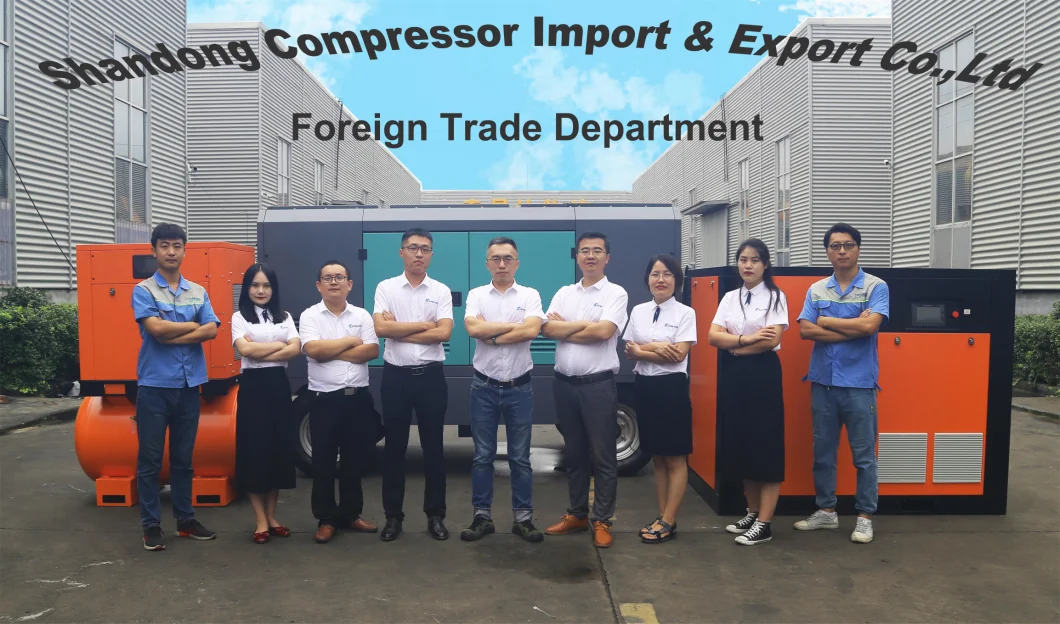 Shandong Compressor Import & Export Co.,Ltd is located in the logistics capital of China, one of the important birthplaces of Chinese civilization-Linyi, Shandong Province. With professinal manufacturing experience and first -class comprehensive scientific and technological strength of the talent team, as the energy-saving compressor system leader and renowed in the industry.
We specializes in R & D and sales of power frequency ,permanent magnet frequency conversion ,two -stage compressor permanent magnet frequency conversion ,low -voltage and mobile screw air compressor . With a deep industry background , one step ahead ambition . With the professional enthusiasm for screw air compressor , team innovation , to meat the challenges of enterprise's own determination and the rigorous attitude of excellence,products are strictly in accordance with IOS 9001 international quality procedures,to provide customers with energy -saving and reliable products .
We warmly welcomes people from all around the world to visit the company to guide the establishment of a wide range of business contacts and cooperation . Choosing Linyi Atlas Air compressor Manufacturing Co.,Led.is to choose quality and service ,choose culture and taste ,choose a permanent and trustworthy partner !
*Packaging & Shipping