On-Skid Mounted Type Oxygen Filling Plant Central Oxygen Supply System
On-Skid Mounted Type Oxygen Filling Plant Central Oxygen Supply System
Oxygen is an indispensable gas for supporting life in the earth, special in the hospital, medical oxygen plays a very important role to saving the patients.
ETR PSA Oxygen Cylinder Filling Plant can produce medical level oxygen from the air directly. ETR PSA Oxygen Cylinder Filling Plant is consisted of Atlas Copco air compressor, SMC dryer and filters, PSA oxygen plant, buffer tanks, oxygen boosters and filling station. The HMI control cabinet and APP monitoring system support for the online and remote monitor.
ETR PSA Oxygen Cylinder Filling Plant can fill medical level oxygen into cylinders, as a complete system, ETR Oxygen Cylinder Filling Plant is widely used for the oxygen gas station and hospitals.
Compressed air is purified through the air dryer and filters to a certain level for main generator to work with. Air buffer is incorporated for smooth supply of compressed air thus to reduce fluctuation of compressed air source. The generator produces oxygen with PSA (pressure swing adsorption) technology, which is a time proven oxygen generation method. Oxygen of desired purity at 93%±3% is delivered to oxygen buffer tank for smooth supply of product gas. Oxygen in buffer tank is maintained at 4bar pressure. With an oxygen booster, the medical oxygen can be fill in cylinders with 150bar pressure.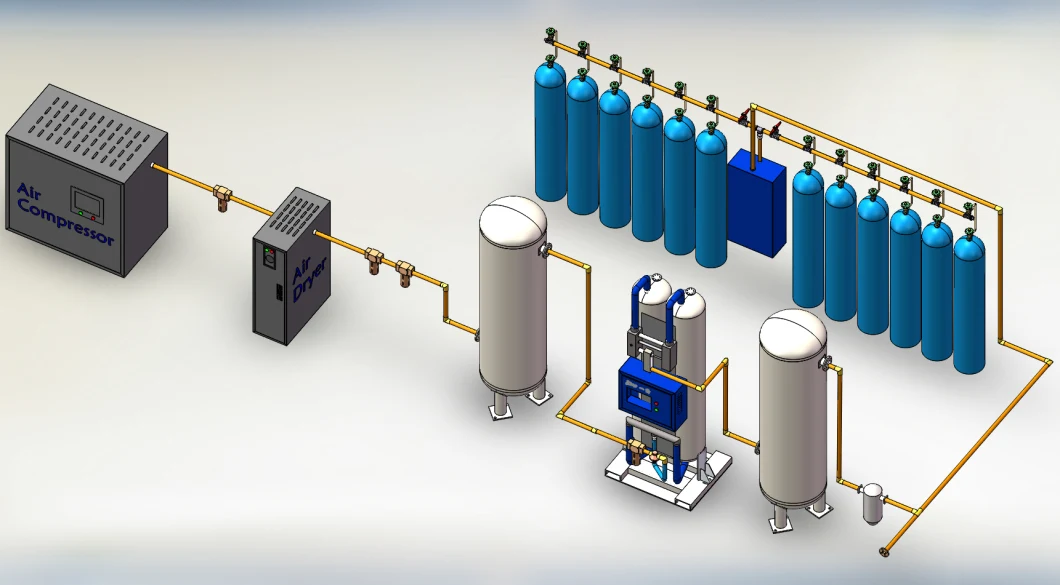 Working Principles
The medical molecular sieve PSA Oxygen Cylinder Filling Plant applies the international advanced pressure swing adsorption (PSA) technology to form a rapid cycle of pressurization adsorption and depressurization desorption under the conditions of normal temperature and low pressure.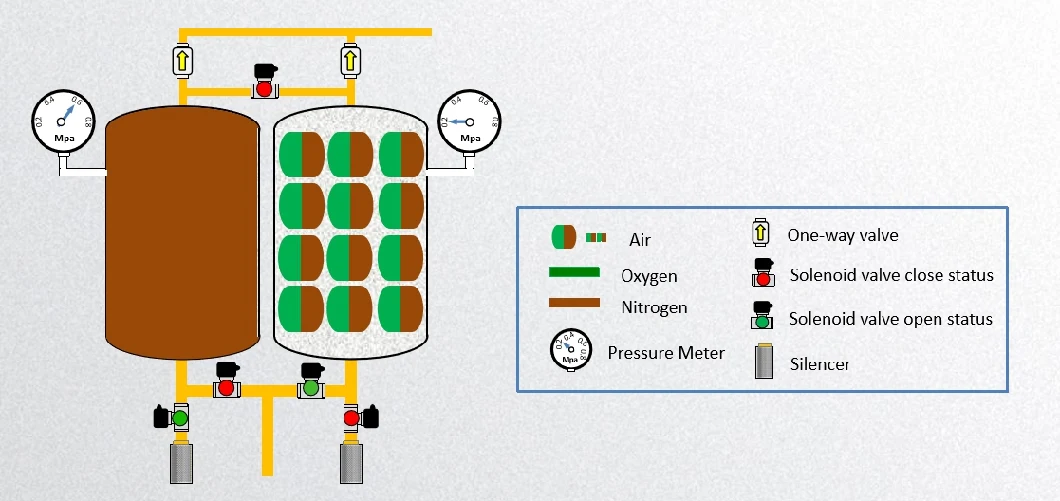 ETR PSA Oxygen Cylinder Filling Plant Advantages:
1) More Economical:100,000-hour service life(more than 10 years), Completely automatic, labor cost saved, 0.15 dollar cost per cube meter.
Stable oxygen purity. 24 hour safe oxygen usage.
2) More Convenient: The system can be controlled by computer automatically, LCD touch screen interface, it is easy to operate and run.
No need for complex operation such as purchase,transportation,storage,canning etc. online oxygen monitor, remote monitoring system.
3) Energy - Saving and Environmentally Friendly: The raw material is air, which is easy to be gotten.
Low noise, physical process, gas control system, no pollution.
No need to transport oxygen by cylinders because the connected pipes system is equipped.
4) Safety: Time Proven PSA (pressure swing adsorption) technology to separate the oxygen from the air directly. No split charging during shipment, which decreases the safety risks. Issuing alarm signal against abnormal parameters.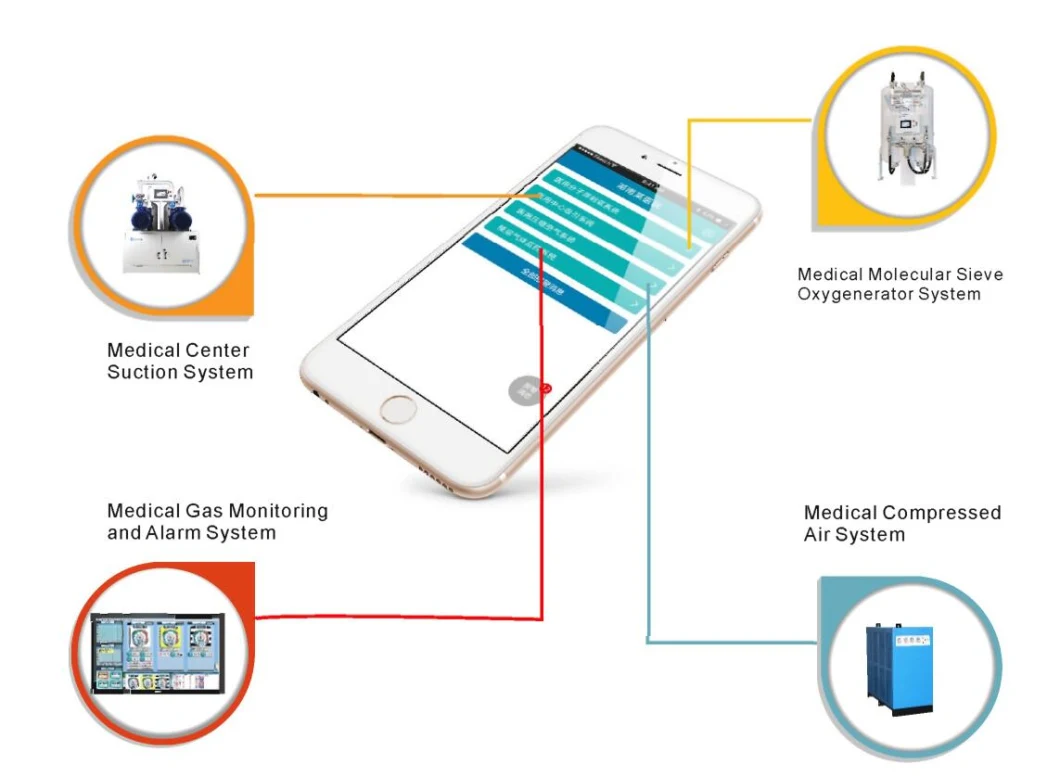 ETR PSA Oxygen Cylinder Filling Plant

Models For Choice:
Model
Oxygen Capacity
Oxygen Purity
Filling Pressure
Filling Capacity
(Nm3/h)
(Mpa)
(Cylinders/Day)

ETS-B3

3

93±3%

15

12

ETS-B5

5

20

ETS-B10

10

98±1%

(Can be customized)

40

ETS-B15

15

60

ETS-B20

20

80

ETS-B25

25

100

ETS-B30

30

120

ETS-B40

40

160

ETS-B50

50

200

Note:

Filling capacity based on 15Mpa pressures &40L cylinder volume &24 operation hours per day.
Quality Control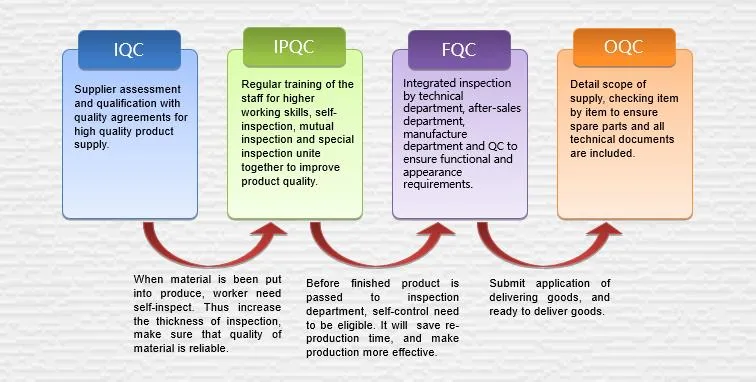 Packaging & Shipping
ETR PSA

Oxygen Cylinder Filling Plant

will be packed by composite material case, suitable for long distance ocean and inland transportation and well protected against dampness, moisture, shock, rust and rough handling. ETR shall be liable for any damage to the PSA

Oxygen Cylinder Filling Plant

on account of improper packing and for any rust damage attributable to inadequate or improper protective measures taken by ETR and in such cases any loss and/or expenses incurred in consequence thereof shall be borne by ETR.



Warranty
(A) ETR guarantees the proper functioning and operating of the equipment for a period of twelve months from the date of testing and commissioning at the end user's site, or eighteen months from delivery date, whichever occurs first.

(B) If there is any defects and malfunction under warranty period, ETR will provide maintenance for free totally until the equipment operates properly.
Our Services
1. Setting trace file for every sold product and survey it quarterly.
2. Providing remote instruction and training for free.
3. Providing on-site services and repairs for free under warranty if problems caused by Eter.
4. Spare parts and on-site services would be provided with best price out of warranty.
5. 7*24 hours online services for free, solution for any problems will be provided within 48 hours.
6. Professional engineer for on-site services will reach within 7 days when needed. (Visa apply should be considered.)

FAQ

1. Are you manufacturer or trading Company?
We are professional manufacturer to produce medical equipment, including medical PSA medical oxygen plant/generator, PSA Oxygen Cylinder Filling Machine, medical central suction system, medical compressed air system, medical central gas supply system, hospital head unit system, medical gas monitoring and alarm system, medical nursing system, ward nursing information system, etc, founded in 2003.

2. What's the order process of PSA Oxygen Cylinder Filling Machine?
a. Inquiry---please kindly provide us all specific requirements.
b. Quotation---official quotation form with all specifications will be provided.
c. Printing file--- PDF, Ai, CDR, PSD, the picture resolution has to be at least 300 dpi.
d. Contract confirmation---official contract will be issued before production process.
e. Payment terms--- Negotiable.
f. Production---mass production.
g. Shipping--- by sea, air or courier. Detailed pictures of package will be provided.
h. Installation and commissioning

3. What terms of payment is acceptable?
T/T, L/C, etc.

4. How to get a prompt quotation of rder process of PSA Oxygen Cylinder Filling Machine?
Pls kindly give us your order requirements with below technical information:
1) O2 flow rate: _____Nm3/hr( or How many cylinders do you want to fill per day/24hours)
2) O2 purity: _____%
3) O2 discharge pressure: _____Bar
4) Voltages and Frequency : ______V/PH/HZ
5) Application:
6) Project Location: