FGD Pump Introduction:
TL(R)
flue gas desulfurization
(FGD)
pump
is
single stage, single suction horizontal centrifugal pump
,
specially
designed to meet the requirements of wet process FGD of limestone(lime) and gypsum for coal fired power
plants.
We have
elaborately
developed a new material which possesses anti-corrosion of duplex stainless steel
and the anti-abrasion of high chrome white iron, making sure the durable use and stable working performance.
Discharge: 350~1000 mm

Capacity:1600m3/h-15000m3/h (444L/S-4167L/S)

Head:15m-31m

Speed:n=420~980rpm

S.g.:γ ≤1.5

Temperature:T=0~120ºC

Working Efficiency: max to 90%

Materials: anti-wear and corrosion-resistance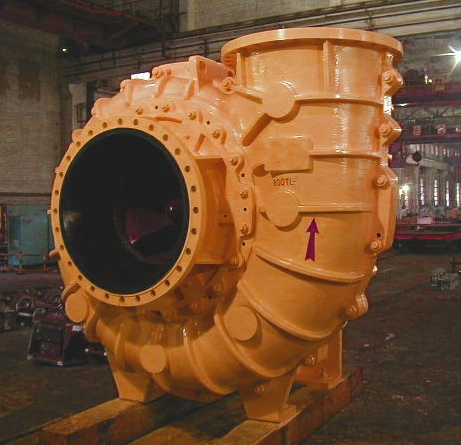 Pump Section Chart for FGD pump
Model
Capacity
Head
Speed
Efficiency
NPSHr
Suction /Discharge Size
M3/hr
L/s
M
R/min
%
mm/mm

350TL(R)

1600

444

25

960

82

4.5

350/400

400TL(R)

2500

694

25

725

83

5.0

400/450

500TL(R)

3750

1040

25

725

85

5.0

500/500

600TL(R)

6300

1750

25.5

620

88

5.5

600/700

700TL(R)

6840

1900

26

485

87

6.0

700/800

800TL(R)

9360

2600

31

485

90

7.0

800/900

900TL(R)

15000

4167

30

485

90

8.5

900/1000

1000TL(R)

10440

2900

15

485

89

7.0

1000/1200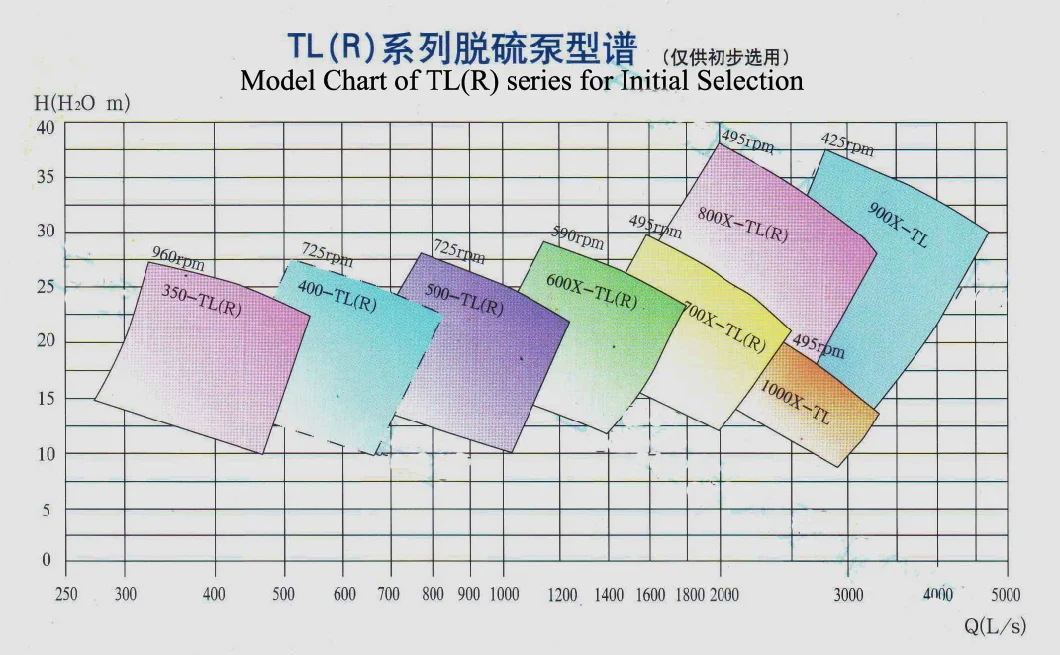 Features:
1. The wearing parts adopted with CFD (Computational Fluid Dynamics) so as to designed reliability and high efficiency.
2. The position of the impeller can be changed by adjusting bearing assembly and the pump Unit can be in efficiency operation state.
3. Pump is back disassembly type and needn't dismantle the pipe connection so as to ensure Structure is simple and easy to maintain.
4. Pump head use double rows taper roller bearings and drive end use cylindrical roller bearings, Bearings are lubricated with recycled dilute oil, improved the bearing working condition and Increased service life.
5. Mechanical seal adopted with containers type mechanical seal to ensure reliable running.
6. It is easy to maintain and repair and it is on need dismantling inlet and outlet water pipes.
Structure:
Cartridge mechanical seal with internal or external flushing plans

, single seal and double seal are both available.

All metal materials for pump set,

without any lining rubber or other high polymer material.

Pump casing adopts duplex stainless steel of 2605N and 2205,which have excellent resistant performance of chloride ions and sulfate ions,and therefore is the first choice of desulfurization pumps.

Front and back open structure,the rotary part can be removed from the casing without dismantling the pipelines.

The bearing part is back pull structure,which is assembled in the bearing housing.

Transmission: directly coupled and gear box drive.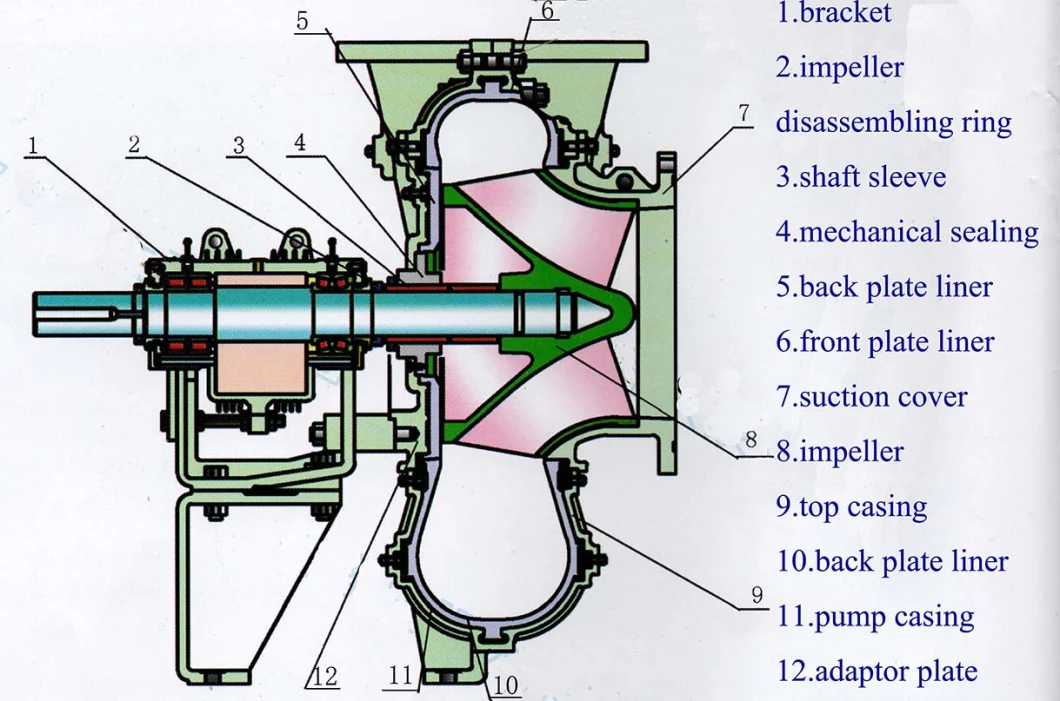 Applications and
Characteristics:
The pump restricting parts adopt the advanced flow simulation technology to guarantee the reliable pump design and the high operating efficiency. The anti-corrosion & anti-wear metal and rubber materials which are specifically developed for FGD pumps have been proved by the practice that they can ensure the long-life pump operation. Through adjusting the bearing components to change the impeller position in the pump chamber all-time high-efficient operation of the pump can be achieved. The pump is characterized by the back knock-down structure which is simple and advanced. It is easy to maintain and repair and it is on need dismantling inlet and outlet water pipes. The containerized mechanical seal specially used for the desulphurization process is adopted and its operation is reliable.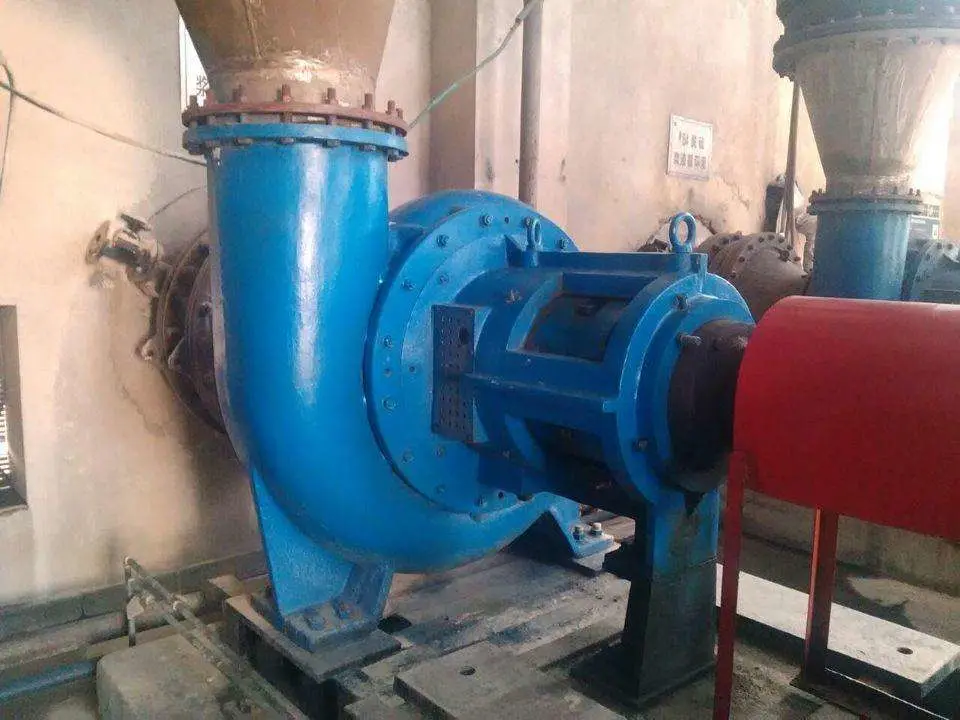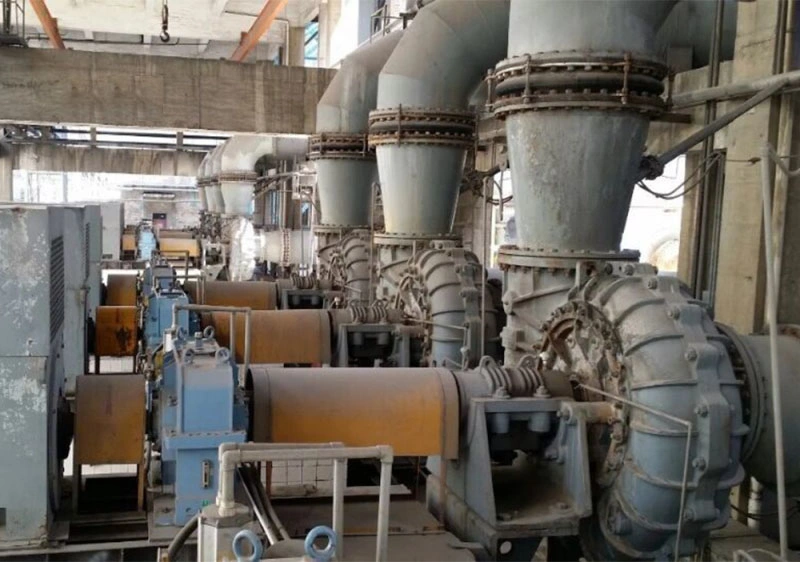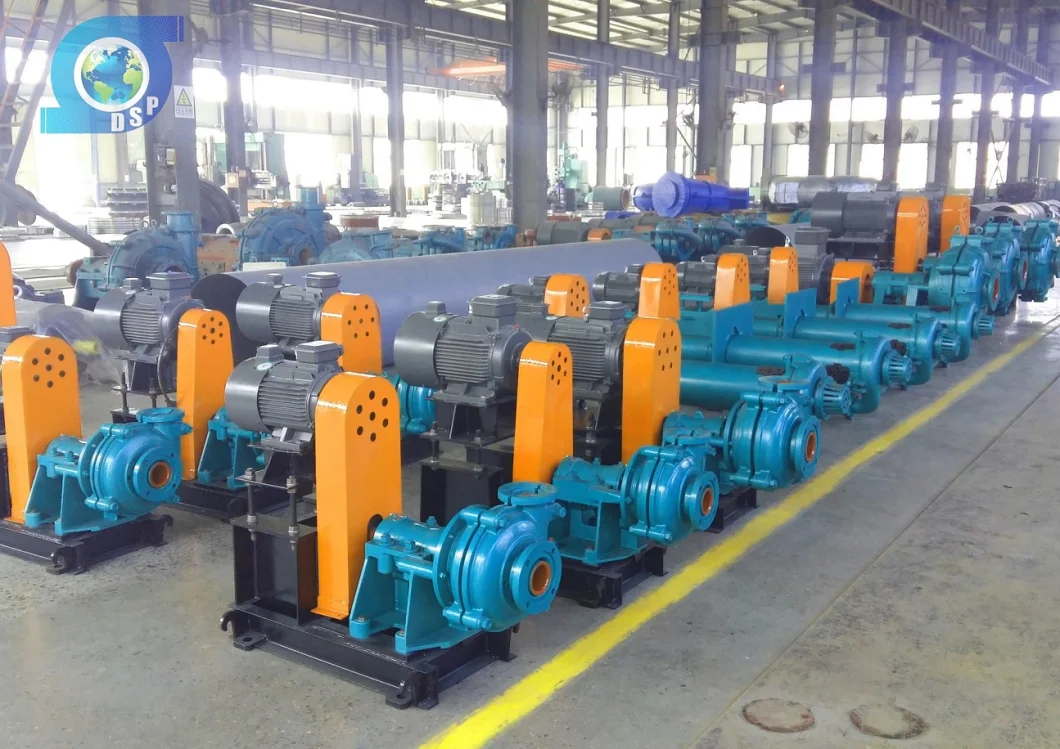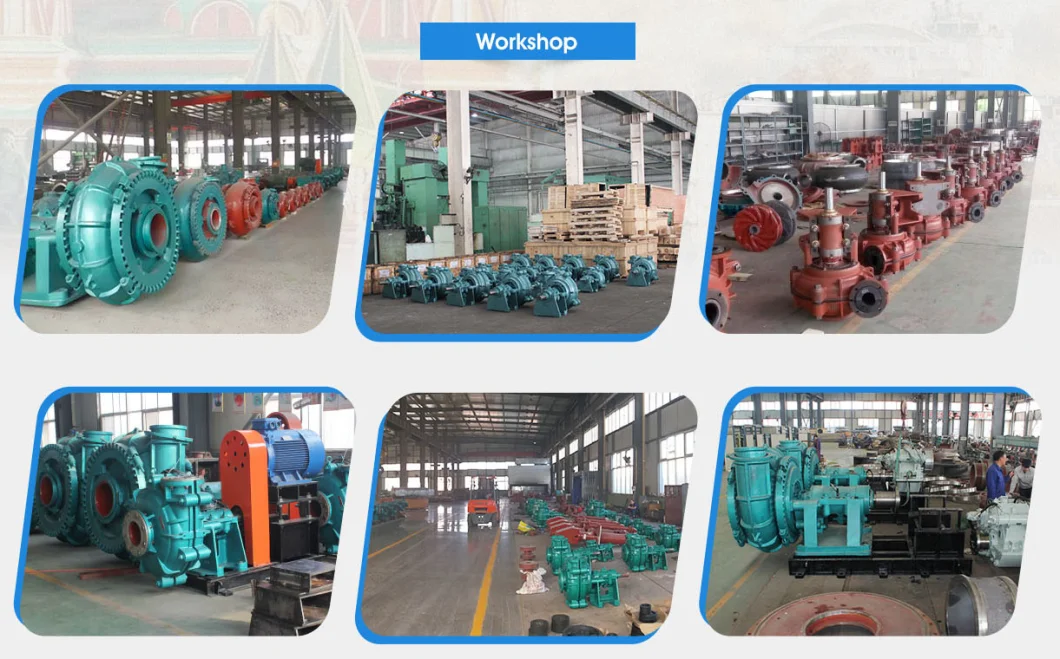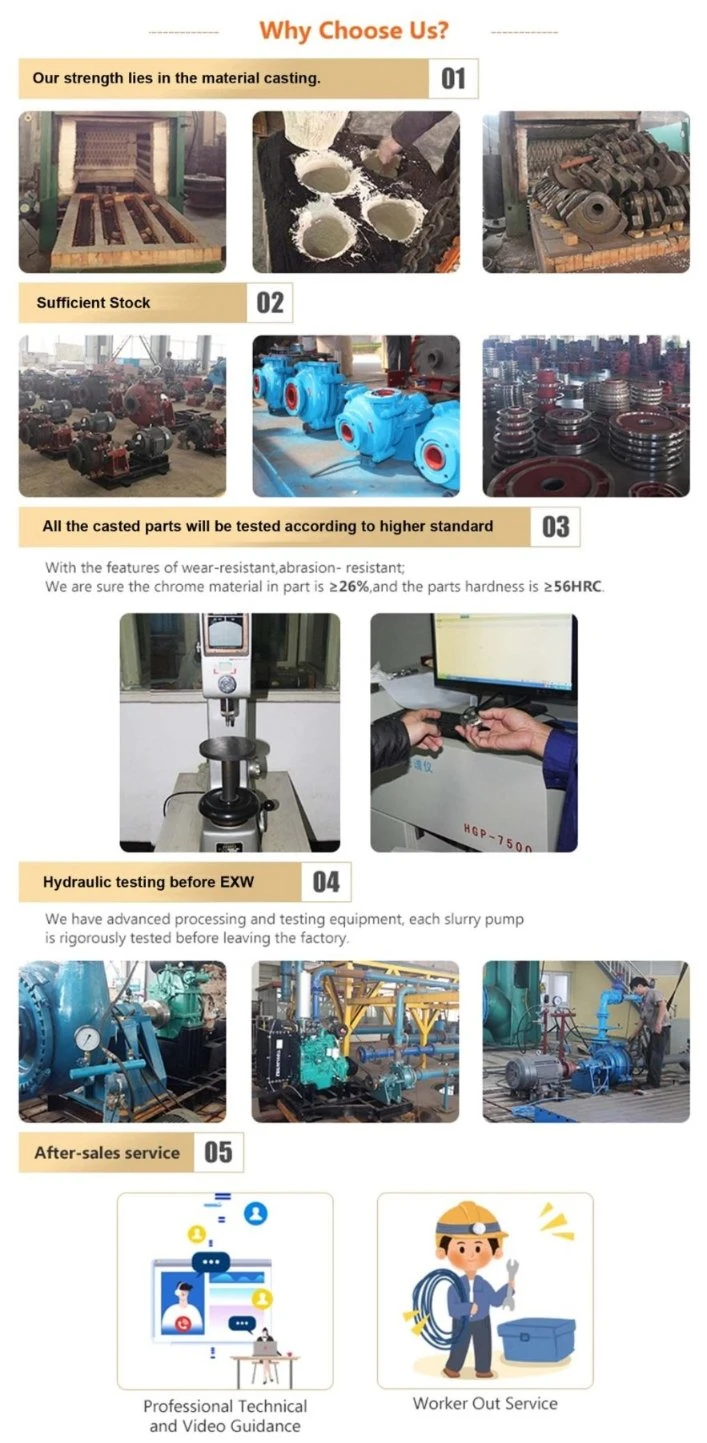 Welcome to contact us any time for details.
Your inquiry will get our prompt attention and response !